Features of the iComfort Wifi Thermostat

Energy Efficient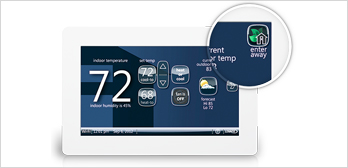 By giving the homeowner complete control of the temperature settings in the home, the iComfort Wifi Thermostat makes maximizing energy efficiency simple and absolutely worry-free. Program your thermostat to reflect your schedule, or try the pre-programed seasonal schedules for smart energy use all year round. Watch the savings compound without sacrificing total home comfort.

Remote System Access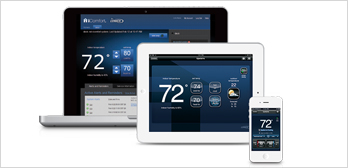 All the confusion and frustration of your old thermostat has been replaced by a clear, easy-to-navigate touch screen display. With the flick of a finger, the one-touch Away Mode switches your settings to conserve energy while you are out of the house. Total comfort and energy efficiency is literally at your fingertips.

Touch Screen Operation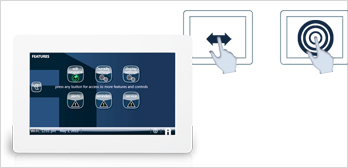 Tired of wasting money heating and air conditioning an unoccupied home? With the iComfort Wifi Thermostat, forgetting to adjust the settings when you are away is never a problem! Connect to the Cloud to raise and lower the temperature in your home from your tablet, smartphone, or laptop, and save money while remaining in complete control of your home comfort.

Service Alerts & Reminders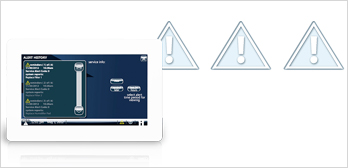 Scheduling maintenance, changing filters, and diagnosing malfunctions are either at the bottom of your already overwhelmed to-do list or beyond your expertise. Luckily, with the iComfort Wifi Thermostat, any homeowner can care for their heating and cooling system like a pro! On-screen and emailed reminders alert you to the need for maintenance, and even display our contact information with the option to email us directly when there is a problem.
Thermostats
iComfort® Programmable Thermostat
In today's digital renaissance, everything is connected, shared, and imbued with the power of modern technologies to enhance our experience and reach levels of efficiency never before imagined. It was only a matter of time before these new ideas reached the HVAC industry, and the result is something extraordinary. Sleek, inspired, and accessible, the iComfort Wifi Thermostat fully realizes the potential of our technological advances. Take your home comfort into a new age with the power of a thermostat made for the world that is, not the world that was.
Explore the exciting features of the iComfort Wifi Thermostat below. From a touch screen display to remote access, the icomfort provides a heating and air conditioning experience unlike any other.
What they're saying our customers

"DC Heating&Cooling was great and made me feel at ease. The installers were at my home with my new furnace within 24 hours. The installers were very respectful of me and my home and finished the installation within four hours. They took their time in explaining everything I needed to know about my new furnace. The installers did a perfect job cleaning everything before they left. I chose DC Heating&Cooling because they are close to my home and they have 24 hour care service. I will recommended DC Heating&Cooling to family and friends. Keep up the good work and keep being consistent."
John Doe
Bridgeview, IL
So simple. So smart. So comfortable.
The iComfort Wi-Fi® thermostat lets you set your home's temperature and save energy from anywhere in the world, using a smartphone, tablet or laptop. Remote access, along with live weather forecast and automatic updates, offers a level of convenience that goes degrees beyond what's possible with a standard thermostat.
Schedule Now